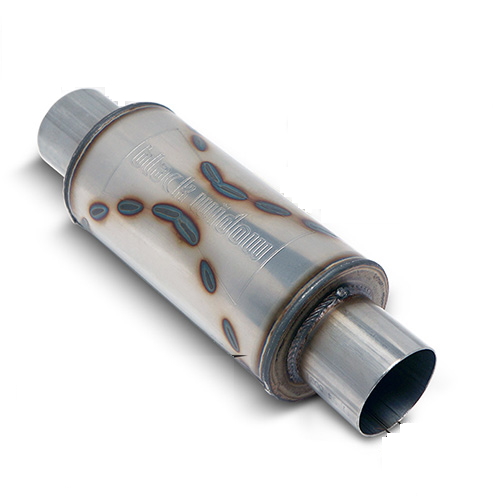 The Widow Maker series mufflers offer an aggressive yet clean tone and are made out of durable 409 stainless-steel. Because of their short 10" body, they are easy to run when space is limited.
All Venom 300 mufflers are backed by a 2 Million Mile Warranty.
Crisp, clean and aggressive Sound
Strait through design allows for maximum airflow
Constructed out of thick 14-gauge stainless steel making for a constistant sound throught the life of the muffler
Bi-directional
Universal 2.5", 3" & 3.5" size for 4, 6, 8 and cylinder exhaust systems
Improves hoursepower and torque
Backed by a 2 million mile warranty
NOTE: - Because Black Widow mufflers are universal and not a direct OEM fit, we recommend installation by a qualified muffler shop.
Size:10"x5"
Available in 2.5" and 3" center/center and side/center configurations.

(see detail image)
Sold: each
Note: Sound requirements can vary from state to state. For some applications, Black Widow mufflers may not meet these restrictions. Performance Online, Inc. , Black Widow Performance, Inc. and Black Widow Tuned Performance cannot be held responsible for incidences that result due to the loudness of your vehicle