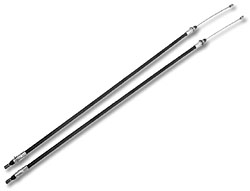 Western Chassis now offers you the correct emergency brake cables to complete your rear disc conversion installation on your 1971-87 Chevy and GMC truck. These cables are designed to connect the rear disc brake caliper to the existing emergency cable system on the truck.
Kit includes:
Caliper Cables
Limited Lifetime Warranty
For use with all rear disc conversions using the popular Cadillac El Dorado brake caliper.
Fits: 1963 64 65 66 67 68 69 70 Chevy Truck, GMC Truck