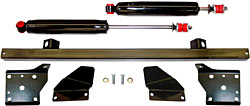 Rear shock relocation kit allows you to move your rear shocks inboard of the leaf springs for additional tire clearance and making the shock configuration into a non-staggered setup. Utilizing a non staggered rear shock absorber allows you to run a traditional rear disc brake setup. It also allows the shock absorber to dampen suspension movement and axle twist more consistantly. This kit will work with stock or lowered applications.

A must when converting to rear disc.

No more need to worry about the staggered rear caliper often found on Camaros and Novas.

Kit includes:
• Spring Tie Plates
• Upper Shock Crossmember
• Shocks, (Up-Grade to Bilstein Available)
• Mounting Brackets
• All necessary hardware
Shock Length Comparison:
Original Shocks:
19.375" extended
11.75" compressed
7.625" travel
Relocator Kit Shocks:
20.87" extended
12.80" compressed
8.07" travel
Will work with stock or lowered applications.
NOTE: With this conversion, the cross member locates off the upper bump stop and the shocks are mount inside the leaf springs and in front of the axle allowing caliper clearence for rear disc brake conversions
Product Fits: 1967 68 69 Chevy Camaro Z28 RS SS Pontiac Firebird Trans Am