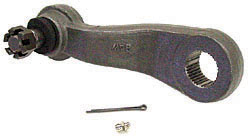 Our 1960-66 Chevy Truck and GMC Truck Power Steering Conversion Pitman Arm is required when converting to power steering. This pitman arm will also tighten up your front end.

Required when restoring or rebuilding the front end of your 1960-66 Chevy and GMC truck.

This arm also fits 1967-82 trucks that came with power steering from the factory.