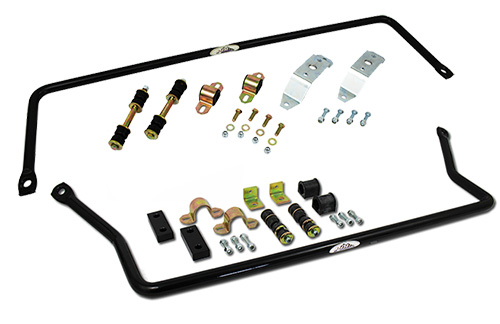 Western Chassis is now offering a high performance front and rear sway bar kits for 1960 - 1962 Chevy C10, C20 or GMC C15 trucks. These sway bars are made from 4140 heat treated steel. Designed to minimize body roll, understeer and oversteer when cornering, these sway bars will improve your vehicle handling and control.
The sway bar design mounts wider onto the control arm with the supplied sway bar end-links, resulting in great performance results while keeping the weight and bar diameter down.
Kit includes:
1.125" diameter front sway bar
7/8" diameter rear sway bar
Poly urethane bushings
Mounting Hardware
Specifications:
1.125" diameeter bar
4140 heat treated steel
Powder coated satin black
Product fits: 1960, 1961, 1962 Chevy and GMC C10, C20 and C15 trucks.